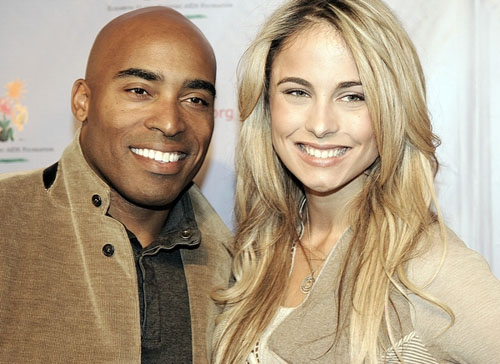 Tiki Barber and his fiancée, Traci Lynn Johnson, were going to walk down the aisle and live happily ever after.  After taking a major hit to his income and reputation for cheating on his pregnant wife in public, Tiki was going to make Traci into an honest woman.
But there's a problem:  Tiki is still not yet divorced from his estranged wife Ginny.
Sources are saying that the two got engaged in August, but the marriage is being put on hold because Tiki and his soon-to-be ex-wife can't work out a deal.
"Tiki and Traci cannot get married until the divorce with Ginny is settled, and it's taking longer than they expected to reach a settlement," said a source who told the New York Daily News that Johnson and his bride to be had started making all the arrangements, including printing invitations.
"Traci may have got a little too excited and ahead of herself with the wedding arrangements," the source also said.
Tiki can't afford the alimony that his wife Ginny wants, or so he says.  The former New York Giant was rejected by all teams in the NFL when he tried to come back.  He also lost his gig on The Today Show after public outrage over the little wife cheating incident.
Johnson is a former intern with NBC who has done some risqué poses in Maxim Magazine as recently as last September.
"Tiki and I are very excited for the next stage of our lives together, but we have no concrete wedding plans as of yet," she said.
Tiki left his wife of 11 years last April after 11- years of marriage.  She was pregnant with twins at the time and eventually gave birth to two girls.
(Visited 1,178 times, 1 visits today)