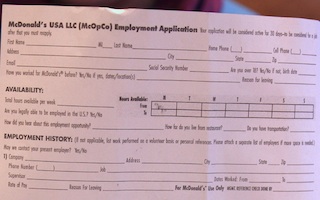 In the middle of an Occupy Chicago teach-in this week, traders at the Chicago Board of Trade dumped several sheets of paper on top of the heads of protesters below. Demonstrators were angered to find out they were showered with employment applications for McDonald's.
"Real class acts, the Chicago Board of Trade," tweeted Occupy Chicago. "This week, it's McDonald's job applications they litter from the windows. Soulless place."
This is the second incident between the two groups, following Chicago Board of Trade's "We Are The 1%" missive plastered on their windows last month.
via Ha Ha Not Funny…Traders From Chicago Board Of Trade Dump McDonald's Applications On Occupy Chicago Protesters.
(Visited 111 times, 1 visits today)