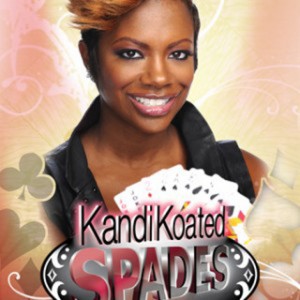 Kandi definitely knows how to take an idea and run with it to the finish line. The singer/songwriter/entrepreneur and Real Housewives of Atlanta star has expanded her brand once again. This time she launched a spades app for the iPhone and iPad, but with a new twist.
"Kandi Koated Spades" is the first urban Spades app now available in the iTunes App Store. Developed by urban video gaming company Konsole Kingz, Kandi Koated Spades allows multiple players to play online while using features such as "Reneg," "Deuces Wild," and "Jokers." The app is designed to reflect the fast-paced, trash-talking style of Spades that's most popular in the African-American community.
"Me and my family are avid Spades players," says Burruss. "So when the opportunity to create Kandi Koated Spades presented itself, I jumped at the chance to share this unique app with my fans. I'm a Spades pro and I can promise you that this is the best Spades game on the market!"
Kandi will celebrate the launch of the Spades app at a private game party in Atlanta next week.
Key Features Include:
– Online Multiplayer (play against three real people)
– Custom avatars (use the camera to put yourself in the game)
– In-game profiles (let everyone know where you're from, post your Twitter, and earn awards (crowns) for playing)
– Chat (chat from the main menu and during the game)
– Single Player Mode (for those of you that need to step your game up)
– Reneg (Call reneg on someone playing out of suit and get those 3 books!)
– Tweet your scores and wins to all your Twitter followers
(Visited 14 times, 1 visits today)