Authorities have identified and charged a 67-year-old man they say urinated in a bank tube after he couldnt get a money order. The suspects name has not yet been released.
Investigators said another customer unknowingly picked up the bank tube and was then covered in the liquid, which they believe was urine.
A man pulled into the drive-up teller at the RBC Bank in Palm Coast on Thursday, deputies said, and urinated in a tube when a policy upset him.
The customer behind him had no idea what he had done.
"Its a disgusting act that nobody should have to go through. You go to the bank to make a deposit or withdraw. Nobody should have to go through this," said Maj. Dave OBrien with the Flagler County Sheriffs Office.
Investigators said they knew who the man was because hes an RBC customer and may have done the same thing once before at a branch in Port Orange.
Flagler County authorities have charged the man with creating a public nuisance. Once the paperwork is filed, he could face arrest and a year in jail.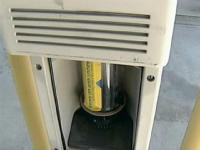 The banks manager says the branch closed down the suspects account and gave him all of his money back.
via Cops: Man. 67, urinated in bank tube – Local News – Orlando, FL – msnbc.com.
(Visited 19 times, 1 visits today)