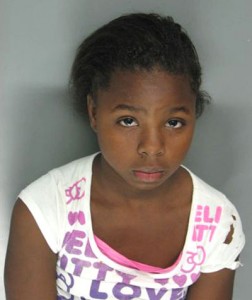 A 10-year-old Florida girl is facing a felony charge for allegedly attacking her elementary school teacher and threatening the educator's life. The assault, police report, was triggered when the teacher seized a bag of Halloween candy that the girl brought to class.
Fifth-grader Miesha Bryant was arrested last Tuesday after an Orange County Sheriff's Office deputy was summoned to the girl's classroom at Zellwood Elementary School. The child is pictured in the below mug shot.
via Girl, 10, Attacked Teacher Over Candy Seizure | The Smoking Gun.
(Visited 613 times, 1 visits today)