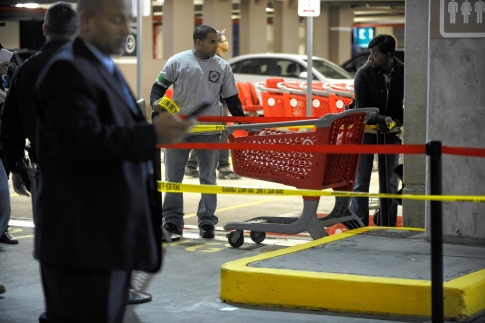 The Manhattan mom critically injured by a shopping cart tossed from the fourth-floor walkway of an East Harlem mall was devoted to kids like the two 12-year-olds charged yesterday with the senseless crime.
Marion Salmon Hedges was hurt just moments after buying bags of candy that she had planned to hand out last night to trick-or-treaters on her Upper West Side — and across town at the Stanley M. Isaacs Neighborhood Center on E. 93rd St., where she volunteered.
Instead, the 47-year-old mother of two was at Harlem Hospital on Halloween night, unconscious and barely clinging to life.
"It's in God's hands," the victim's father-in-law, Michael Hedges, said through his tears. "You see her laying there, unconscious in the bed, with 50,000 tubes in her. She has absolutely no recognition, not even a glimmer of anything."
Over at the neighborhood center, executive director Wanda Wooten said Hedges was a dynamo fundraiser who also belonged to the Junior League and was active in her church.
"She's a terrific member," said Wooten, who said she went shoe-shopping with Hedges on Friday. "We were talking about the impending snowstorm. It's all the more shocking. You can't believe this happened."
The 12-year-olds, whose names are being withheld by The News because of their age, are from the neighborhood served by the center.
(Visited 101 times, 1 visits today)