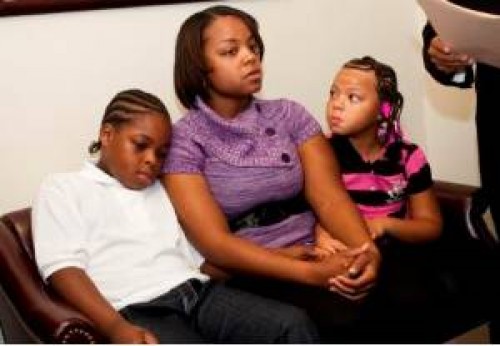 The Westerville Police Department is in hot water after deciding to handcuff a 7 and 8 year old and put them in a cell after a school bus fight in October.   The two siblings allegedly became unruly, pushing the bus driver, cussing and threatening to punch the principal, according to court documents.
Tonya Mitchell, the 29-year old mother of the two children, says that the police department and Westerville School District violated her children's rights, wrongfully imprisoned them and used excessive force in their handling of the situation.  She says that the kids are now terrified and having nighmares after the incident.
"Just take a look at the facts of the case," said Police Chief Joseph Morbitzer said, " your last course of action is an arrest."
Carrie Davis, an attorney for the American Civil Liberties Union, says that she is having trouble seeing what crime the children committed.
"Kids mouthing off, not sitting still, taking things off the shelf — does that sound like a crime?" said Davis.
"State law is pretty clear that you have to have a lawful basis to arrest them. You can't just decide, 'I don't like the way they're acting.'"
A judge dismissed disorderly conduct charges against the kids because of their ages.  The children have been suspended from Pointview Elementary School for 80 days.
The bus driver says that Mikael, the boy, started off "taunting and harassing other students. He was saying that each girl student liked Victor (another student). He kept repeating it."
After his taunting, another boy hit Mikeal, and that's when all hell broke loose, according to authorities.
"If anyone should have been arrested, it was the student who struck Mikeal," Potts said. "The other people were let off the bus and (left) to do their normal routine."
When police arrived at the school, they handcuffed both of the kids and put them in the back of separate squad cars.  They then took them to a holding cell at police headquarters.   According to police, the kids wouldn't sit, kept screaming and were becoming "increasingly belligerent."
"So I decided to remove them from the school for their loud and disruptive behavior," the officer wrote.
(Visited 1,929 times, 1 visits today)