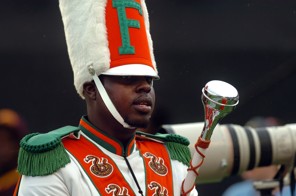 For black college bands, this is one of the biggest weekends there is: the Bayou Classic.
Southern University and Grambling University football teams square off in New Orleans for their annual family reunion party and rivalry.
It is also one of the rare occasions when a national audience gets to see the real show: the high stepping, the hip-shaking and the horns blaring during the battle of the bands. But this weekend, the discussion around black college bands is not about fun and revelry.
In this Saturday, Nov. 19, 2011, photo, Robert Champion, a drum major in Florida A&M University's Marching 100 band, performs during halftime of a football game in Orlando, Fla. (Joseph Brown III – AP) It is about whether a culture of hazing led to the death of Robert Champion, one the drum majors for the famed Marching 100 band at Florida A&M University in Tallahassee. The band director has been fired. Band activities have been suspended. State and local criminal investigations are underway. And the governor has gotten involved after police said they think some form of hazing may have caused his injuries.
via FAMU Marching 100 and college hazing – The Root DC Live – The Washington Post.
(Visited 31 times, 1 visits today)