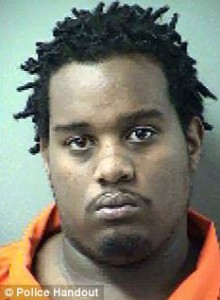 Two deputy sheriffs have been suspended after an overweight criminal managed to smuggle a loaded gun into jail by hiding it under his belly.
Stoney Mathis, 18, was able to keep officers Dennis Campbell and Robert Speakman from finding the .38 revolver by tucking it into his waistband and letting his 'big gut' hang over his belt.
One deputy conceded it was a mistake to not 'physically lift up his stomach' during the full-body search.
Mathis, who is 5'4" tall and weighs 220lbs, was originally pulled over for reckless driving by police from Okaloosa County Sheriff's Office, Florida, and was patted down by his car.
via Stoney Mathis, 18, smuggles loaded gun into jail… by hiding it under his 'big gut' | Mail Online.
(Visited 27 times, 1 visits today)