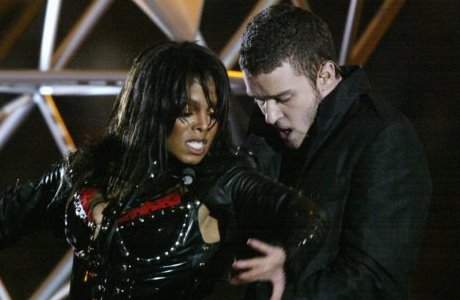 Nearly eight years ago, Janet Jackson's music career took a nosedive when, during a Super bowl halftime performance with Justin Timberlake, the pop icon' s breast and sunburst nipple piercing were exposed to the world by Timberlake in what the two described as a "wardrobe malfunction." After suffering a $550,000 Federal Communications Commission fine as well as career-crippling public backlash, Jackson can now enjoy a bit of vindication after a court ruled this week that the FCC wrongly fined Jackson and CBS for the nip-slip.
According to Reuters, the court found that the FCC failed to properly inform CBS about the changes in indecency enforcement prior to the performance and had "arbitrarily" decided to change its rules when dealing with Jackson and the network.
Though disappointed in the ruling, the FCC said that their decision was based on "narrow procedural grounds and did not diminish the commission's authority to regulate indecent content."
via Janet Jackson Nipplegate Scandal: Court Issues Ruling | Rolling Out – Black News, Celebrity Videos, Entertainment, Business & Politics.
(Visited 517 times, 1 visits today)