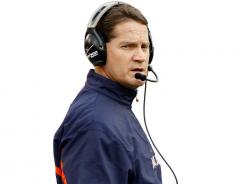 Universities are tightening their budgets, and the athletes doing the work are not getting paid, but college football coaches are seeing massive pay raises.  Jimbo Fisher at Florida State University got a raise of $950,000 last year, after just one year on the job.
"You're always looking at whether or not you have the potential to lose a good coach and end up having to pay more in order to get the next one," Florida State President Eric Barron says.
An analysis by USA Today shows that the average rate of pay for a college football coach has risen from $950,000 in 2006 to $1.47 million today, an increase of 55%.  In the six conferences that have automatic bids for the Bowl Championship Series, the average salary rose to $2.125 million.
"The hell with gold," higher education lawyer Sheldon Steinbach says. "I want to buy futures in coaches' contracts."
The major spending for college football coaches comes at a time when many universities are telling professors and students that they have to cut jobs for others on campus.
"Athletics has gotten so disproportionate to the rest of the economy, and to the academic community, that it is unbelievable," says Julian Spallholz, a professor in the department of food and nutrition at Texas Tech. "This kind of disproportion in the country is why people are occupying Wall Street."
This year, 64 coaches are set to earn over $1 million, 32 are set to earn over $2 million, nine are set to earn $3 million and three are going to earn $4 million.  Mack Brown at The University of Texas is going to earn a startling $5 million.
Critics argue that the massive pay increases are unfair to athletes, many of whom have families that are in poverty.  Also, some even tie the major spending on college sports to cover-ups, like the recent sex scandal at Penn State University.  Dr. Boyce Watkins, a critic of NCAA sports, says that when significant amounts of money are on the line, universities are more likely to behave unethically.
"If college sports were truly amateur, the Penn State football program would not have a valuation that matches many professional sports teams," says Watkins. "This reduces the incentive to hide the fact that one of your coaches is molesting young boys in your locker room.  That cover-up was all about money."
Dr. Watkins and others say that the NCAA should either share the wealth with the families of college athletes or leave the money on the table.  Either complete professionalism or complete amateurism, according to Dr. Watkins, would make the league consistent for all of those involved.   With college coaches earning as much as coaches in the NBA and NFL, it's hard not to expect something to change.
(Visited 16 times, 1 visits today)