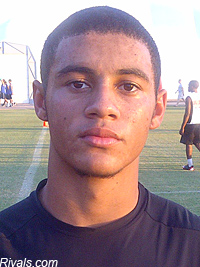 Arizona high school running back D.J. Foster had statistically one of the top performances in high school football history last Friday when he ran for 508 yards and scored 10 touchdowns in a playoff game.
In doing so, he may have got his coach at Saguaro High in Scottsdale off the hook for a dubious coaching decision he made the week before.
Saguaro coach John Sanders opted to rest Foster and roughly a dozen other stars in the school's final regular-season game against Chaparral, arguing his kids needed to get healthy and that the result of the game would have no impact on the team's playoff seeding.
But when the team of backups lost to a top rival, 65-0, many questioned whether Sanders' move was in the best interest of the kids. Some openly questioned whether Sanders should remain as the team's head coach. The local newspaper suggested Sanders should be forced to sit out a game.
via Rivals High – Arizona back Foster goes for 508 yards, 10 TDs.
(Visited 59 times, 1 visits today)