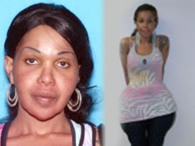 Your Black World reports
There are new developments in the story about a man in Florida was recently charged with injecting odd items into women's buttocks in order to make them larger.  Oneal Ron Morris, a 30-year old transvestite, has been accused of using an array of toxic substances, including Fix a Flat and Cement.
via Your Black Woman: More Victims Come Forward to Say Man Gave Butt Injections with Cement and Fix a Flat.
(Visited 45 times, 1 visits today)