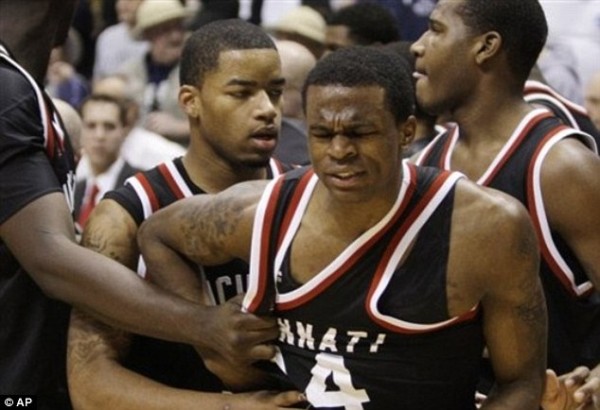 But Xavier and Cincinnati basketball players took the sentiment a little far during their Saturday game, which ended in a mass brawl, slashed faces – and potential match bans.
Xavier beat Cincinnati 76-53 in the game that featured a steady exchange of venomous words – the latest altercation in a crosstown rivalry spanning decades.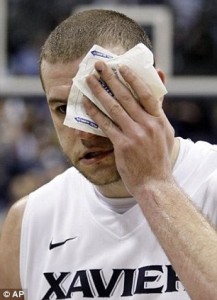 Scroll down for video
There were just 9.4 seconds left on the clock when a few shoves between players sparked the all-out brawl.
Players jumped from the benches to square up with their rivals.
Cincinnati's Yancy Gates threw a punch at Xavier centre Kenny Frease, splitting his left cheek. Knocked to the ground, Frease was then kicked by Cincinnati's Cheikh Mbodj.
Coaches from both teams tried to yank their players out of the fight.
Suspensions are expected after videotapes of the match are reviewed by athletic bodies the Atlantic 10 and the Big East.
A few hours after the game, the Atlantic 10 announced Gates, Mbodj and Wells were listed as ejected, indicating their actions were deemed the most severe.
via Xavier and Cincinnati basketball players brawl on court | Mail Online.
(Visited 29 times, 1 visits today)