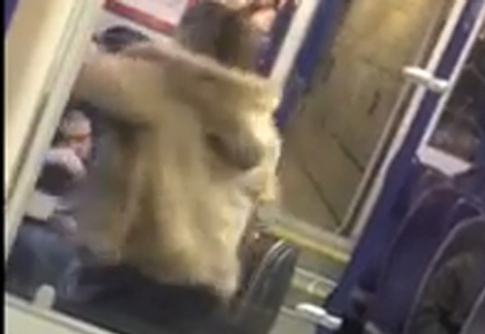 Lisa Alyounes, 26, remains behind bars after her arrest for the videotaped Nov. 29 beating of her apparently cheating boyfriend as they rode a train into the Pennsauken, N.J., station.
The eight-minute clip, recorded by a fellow passenger, became an instant viral video with more than 250,000 viewings as of Thursday afternoon via YouTube.
It caught Alyounes kicking like Chuck Norris and punching like Mike Tyson as her boyfriend takes the beating with barely a flinch.
"This all for cheating?" an onlooker asks at one point during the lengthy beatdown.
Family members insisted the video violence was out of character for Alyounes.
"Lisa is normally not like this," her father Robert told the Camden Courier-Post. The Westville, N.J., man also wondered why his daughter's boyfriend didn't attempt to stop the assault.
The brawl aboard a New Jersey Transit train continued when police moved in to arrest Alyounes. The video caught the young woman scuffling with cops as they tried to lead her out of the station.
Alyounes was charged with assaulting her boyfriend and additionally with aggravated assault on a police officer.
(Visited 58 times, 1 visits today)