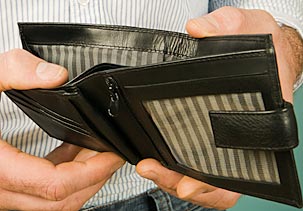 Matt and Toni used their credit cards when times were good to buy furniture and otherwise set up their new household. They assumed they would keep earning enough money to pay off their debts.
But Toni, a home health aide, had stretches of unemployment between clients, so they starting using the cards to pay their other bills. She took six months off when she had a baby, putting them further behind.
Instead of rising, the couple's income is about half of what it was a few years ago, said Matt, who works for the state of Washington. Meanwhile, their revolving debt has ballooned to $50,000. And this fall Toni had another three-week gap in employment.
"That doesn't seem like much," Matt said, "but it was enough to really push us over the edge."
via When you're too poor for bankruptcy – 1 – debt & credit – MSN Money.
(Visited 96 times, 1 visits today)