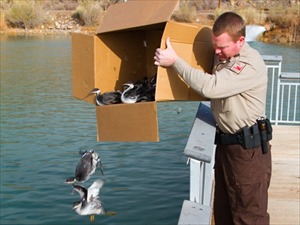 CEDAR CITY, Utah (ABC 4 News) – A flock of tens of thousands of Eared Grebes mistook the Utah town of Cedar City for a lake late Monday night and crash landed during a winter snow storm killing hundreds of the migrating birds.
Residents said the sky rained birds in Iron County about 11:30 p.m. Monday as the water-based Eared Grebes slammed into streets and parking lots all over town. "They get down through the clouds and see a lawn that is covered with snow or a parking lot that is covered with snow with lights on it thinking it's a lake and try to land on it," said DWR spokesman Lynn Chamberlain.
Apparently, the birds can not survive the cold or on frozen water and came down en masse to find shelter from the storm that hit Cedar City.
via Thousands of migratory birds make crash landing in Cedar City – ABC4.com – Salt Lake City, Utah News.
(Visited 33 times, 1 visits today)