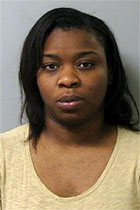 A 70-year-old greeter at Walmart suffered fractures on the left side of her face Christmas Eve after a 26-year-old woman allegedly punched her after being asked for her receipt for items in her shopping bag.
The young woman reportedly ran from the store and, according to witnesses and several customers, chased her and surrounded her car, preventing her from leaving until police arrived.
"One of the biggest things to note is that the community actually stood up and did not let this person get away with what she did," said one witness, who asked to remain anonymous. "Even on this busy shopping day, dozens of people stayed behind and made police reports."
Charged with two counts of assault in the second degree — one for alleged attempt to cause serious injury and another for allegedly injuring a person 65 or older — is Jacquetta Simmons of 106 Ellsworth Ave., Batavia.
via The Batavian.
(Visited 11 times, 1 visits today)