by Yvette Carnell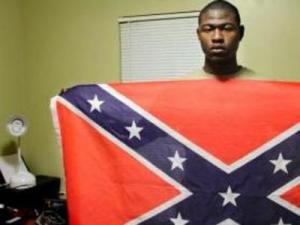 So after fighting for the right to fly his Confederate flag in his dorm room window, and winning, University of South Carolina student Byron Thomas has now decided that he won't exercise that right.  My guess is that someone sent Byron a long list of links to historical records and narratives that contradict his southern indoctrination.
It is telling that Southern revisionists continue to promote the fiction that the main cause of the Civil War was something other than slavery.   It is just as telling that some black people readily buy into it.
via Black Student Who Fought to Fly Confederate Flag Changes His Mind, and That's a Good Thing « Your Black Politics.
(Visited 353 times, 1 visits today)