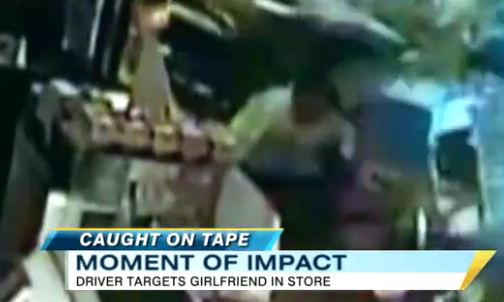 A crazed Tennessee man was trying to run over his girlfriend when he rammed his pickup truck through a convenience store, nearly killing the shop's owner, local authorities said.
Security cameras inside the Columbia Market in Columbia, Tenn., caught the harrowing attack on tape.
SEE VIDEO BELOW
Laquisha Dansby, 37, was running for her life from her unhinged beau, Erik Whitaker, 40, who was chasing her in his vehicle, when she ran into the Columbia Market in Columbia, Tenn., last Friday.
As the footage showed, Whitaker plowed his truck through the store's glass front, crushing owner Surendra Patel into rows of toppled convenience store shelves, ABC News reported.
Miraculously, Patel walked away from the accident — as did Whitaker, who hopped into a stunned witness's SUV and tried to make a getaway before crashing head-on into a bread truck.
Whitaker was released from the hospital on Wednesday and charged with attempted murder, aggravated assault, theft and reckless endangerment, Nashville station WTVF television reported.
His bail was set at $2 million.
Patel suffered cuts to his face and chest, but his family said he was recovering, according to local reports.
(Visited 39 times, 1 visits today)