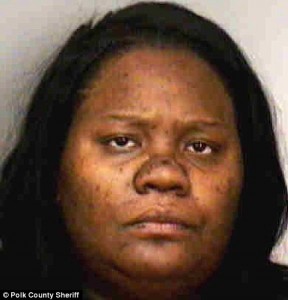 A geography teacher was arrested after an argument with McDonald's staff lead to her throwing the meal at the manager, hitting him in the face with a hash brown.
Simone Paolercio, 39, ordered $20 of breakfast items at the fast-food restaurant on Saturday morning.
When she received her bag of food at the drive-thru window in Lakeland, Florida she became angry – particularly over her request for hash browns.
It is unclear what the problem with the food was but Ms Paolercio demanded a refund, according to the Orlando Sentinel.
After a member of staff fetched the manager, who is seen on CCTV trying to reason with the teacher, she then throws what appears to be a hash brown at his face before placing all the items on the window ledge, letting them spill to the floor.
(Visited 27 times, 1 visits today)