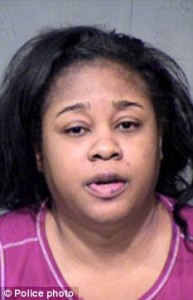 A mother has been accused of choking her five-year-old son because he would not stop playing with video game he received as a Christmas gift.
Jutrina Tillman also threatened her daughter with a butcher knife after she tried to protect her younger brother in the Christmas night confrontation.
Police said Tillman, 32, flew into a rage when her son continued to play his video games at their home in Phoenix, Arizona.
Tillman allegedly smashed her son's video game system on the floor and then dragged him into his bedroom where police said she started choking him.
Court records state Tillman's 13-year-old daughter ran into the bedroom after hearing her brother's cries for help and pushed her mother away to stop her from choking him.
The boy told investigators 'that his mom put her hand around his throat and squeezed until he thought he was going to fall asleep and closed his eyes.'
Police told ABC 15 that Tillman then grabbed a large butcher knife in the kitchen, pointed the knife at their chests, and threatened to kill them.
When the five-year-old made a dash for the door to escape his mother, she allegedly grabbed him by the neck, held the knife to his chest and threatened his life.
The 13-year-old was reportedly able to get out of the house and call 911.
(Visited 143 times, 1 visits today)