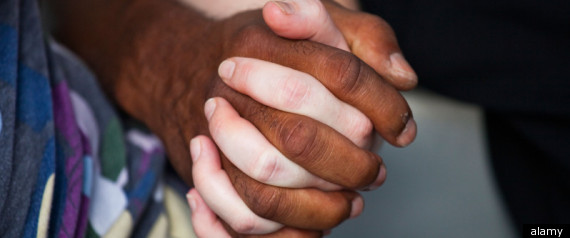 FAYETTEVILLE, Tenn. (RNS) A white church secretary is suing her former employer, arguing that she was fired for marrying a black man.
Debra Dodd, the former secretary at the Cumberland Presbyterian Church in Fayetteville, Tenn., and the Rev. Tim Smith, pastor of the church, agree on one thing: Most of the members of that congregation are great people.
But from there, their stories diverge.
Dodd has filed a lawsuit for back wages and $500,000 in punitive damages against the church after she was fired for what she says is racial discrimination.
Dodd said the all-white church first embraced her during her two years as secretary — and then suddenly shunned and subsequently fired her on May 26 after they learned she had married a black man in April.
Smith said Dodd's marriage is unrelated to her firing, but also said his lawyer has directed him not to discuss particulars.
via Debra Dodd Fired: Former Secretary At Cumberland Presbyterian Church Says Interracial Marriage Got Her Fired.
(Visited 25 times, 1 visits today)