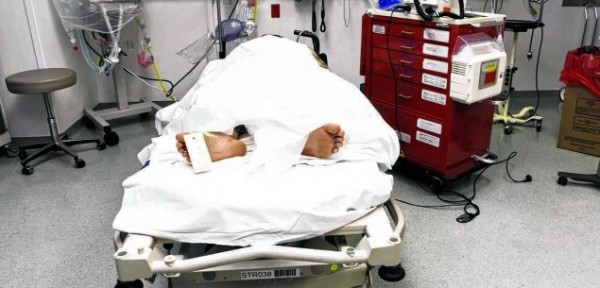 Fat people should think twice about donating their body to science — science might not want it.
Overweight corpses simply aren't ideal for scientific study, says Richard Drake, a surgery professor at the Lerner College of Medicine.
"The storage is one issue, but when you are obese, there's a lot of tissue everywhere," he said to MSNBC.com. "The students don't get as good a learning opportunity."
Drake, also a director of anatomy at the Cleveland Body Donation Program, which provides bodies to Lerner and other schools, rejected a too-heavy corpse just last week.
Simply put, the 6-foot-1, 350-pound body was too big, he told MSNBC.com.
Drake explained the problem to the deceased's family members who had brought him there.
"They understood that, because, actually, they had tried a few other places," he said. "They were sort of checking around."
Larger bodies face problems because they might not fit on the trays — especially in some medical coolers where corpses are stacked six high. The weight can be difficult to transfer, as technicians and students often have to move the bodies.
Adding to the weight is the embalming process, which can pack an extra 100 to 150 pounds onto a 250-pound frame, according to MSNBC.com.
Experts also worry that using obese bodies in scientific study could skew a student's perspective of what certain parts are supposed to look like.
"In a perfect world, they'd like to have a perfect body with perfect anatomy — or near perfect," said Ronn Wade, director of the Anatomical Services Division of the University of Maryland Medical School in Baltimore.
As many as 1,800 bodies are donated to Wade's program per year, he says. Only about one quarter of them are the ideal size.
That doesn't mean the bodies are necessarily rejected right away, but they're probably not used for first-year students. Heavier bodies can be used for paramedics or other medical professionals who need practice, he said to MSNBC.com.
Others, ones that are too obese to use at all, will be cremated, and the remains returned to their families.
While there is currently no shortage of appropriately sized corpses just yet, experts worry the obesity epidemic will cause problems for medical study in the future. Some have even considered tweaking their own requirements and upping the weight limit, like Stephen D. Anderson, coordinator of the Willed Body Program at the University of Louisville School Of Medicine, who might increase the weight limit in his program to 250.
"If we keep it at 200, we may see that we're turning down potential donors because of that," he told MSNBC.com.
(Visited 382 times, 1 visits today)