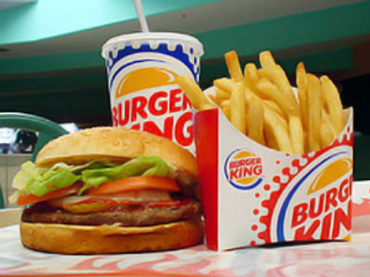 In a move that is sure to send a shiver down the spines of anti-obesity campaigners everywhere, fast-food giant Burger King has announced plans to launch a home delivery service.
The nation's second largest burger chain has been quietly testing the service at four of its restaurants in the greater Washington area.
For decades burger restaurants have resisted introducing home-delivery services as the snacks don't travel well and tend to go soggy when warmed up in a microwave.
But Burger King claims to have solved the problem by developing what it calls 'proprietary thermal packaging technology,' which ensures the food won't arrive cold and congealed.
According to chief brand and operations officer Jonathan Fitzpatrick the new packaging 'ensures the Whopper is delivered hot and fresh, and the french fries are delivered hot and crispy.'
The firm claims to have developed hi-tech wrappers to ensure the food arrives piping hot
The firm charges an additional $2 delivery fee with minimum orders varying from $8 to $10 depending on the store.
They claim stores try to deliver within 30 minutes of ordering but customers must live within a 10-minute drive of the store.
Drinks are delivered in bottles and the service does not extend to breakfasts. Delivery times are 11 a.m. to 10 p.m.
If successful it is expected they will roll the service out nationwide.
Rivals McDonald's currently offers a delivery service from two of its branches in Manhattan, New York, but it is only open to businesses and the firm say they have no plans to expand the service.
However Pizza firm Domino's, for which delivery accounts for 70 per cent of all business, said delivery was not
Spokesman Tim McIntyre told ABC News: 'We wish them luck.
'There is a reason that not all pizza places deliver: It isn't easy.'
(Visited 187 times, 1 visits today)