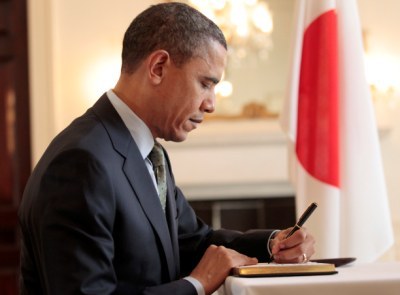 An unemployed Maine carpenter was forced to sell a handwritten letter from Barack Obama that he received after writing to the President asking if America's future was as bleak as it seems, because he was broke.
Charles Oliver, a 53-year-old former Marine, was forced to sell the letter on eBay to meet expenses, the New York Post reported.
"The reason for this letter, sir, is to ask my president one specific question. Mr. President, are we as Americans going to be alright?" Oliver wrote.
Obama replied, "Charles, I know things are tough right now and I won't lie to you — it will probably take another year or two to fully dig our way out of this hole."
The letter fetched $2,500, according to the New York Post.
Oliver is the latest American forced to sell an Obama letter to pay the bills.
In June, Destiny Mathis, a cash-strapped mother of three from Indiana, was forced to sell a letter from Obama after being out of work for six months — despite describing it as her most prized possession.
Similarly, Michigan resident Jennifer Cline, 28, wrote to the President about how she and her husband lost their jobs and detailing her battle with skin cancer. She was forced to sell the supportive letter from Obama for $7,000 to an autograph dealer in 2010 to help pay her health care costs.
(Visited 159 times, 1 visits today)