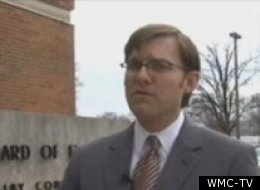 A Tennessee high school principal has issued a letter of apology to parents and students for saying the school's black students are "less smart," as evidenced by a state report card issued this month, WREG reports.
"I unintentionally offended a number of students on this campus," Germantown High School Principal Ted Horrell wrote in the letter. "I apologize to all the students and parents who were offended."
During a school presentation last week, Horrell reportedly laid out the results of the Germantown High's Tennessee state report card, which breaks down standardized test scores by race and income. The assembly aimed to discuss how the school can close the achievement gap and introduce a new program that would offer assistance to struggling students, WMC-TV
But a number of parents and students were offended by the presentation, arguing that it only created a greater divide among students as some students found it reason to start mocking black students for "being dumb," according to WMC-TV.
"[My daughter] felt he presented this information to basically reflect the African American students were all the reason the scores were down," Germantown High parent Deborah Cannon told WREG.
Germantown's report card reflect a national trend. Results released last fall showed that consistently large gaps in the performance of white, black and Hispanic students remained on the 2011 national math and reading exams. On the National Assessment of Educational Progress, administered every two years, 9 percent of white students performed at or above the highest level in 4th grade math, compared with only 2 percent of Hispanic students and 1 percent of black students.
Schools in areas like Chicago still struggle to gain ground in math and reading proficiency to close the performance divide between black and white, Latino and Asian students.
Horrell said that while at the Germantown High assembly, he did note certain groups of students are performing better than others, he "certainly didn't say that white students are smarter than black students," WHBQ reports.
One student publicly came to Horrell's defense, writing in an email to WREG that "information is valuable," and that the principal merely sought to share data with those being evaluated.
"As a student there, I do want to know how we are performing when it comes to standardized tests," the student wrote. "I think (based upon the reactions in the audience at the meeting) that once people were made aware of the data, they made judgments and did not fully listen to Dr. Horrell. The changes Dr. Horrell is making to GHS is to better the students."
(Visited 32 times, 1 visits today)