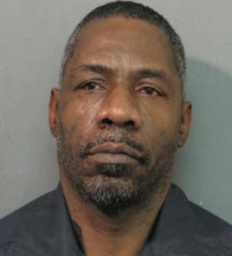 Louisiana police say two alleged car burglars — one in a wheelchair — were arrested after they returned to their victim's home to apologize.
50 year old William Poindexter, seen above, and 48 year old Ernest Mart, were booked with simple burglary and held in lieu of $50,000 bond. A third man is wanted.
Police say they allegedly were taking a car radio from an SUV about 1 a.m. Monday when the owner saw them. They fled – one pushing another in a wheelchair.
"You don't generally see burglars in wheelchairs. It's not a real speedy getaway vehicle," Sgt. Kyle Faulk said. Kate Cash said her daughter, the owner of the SUV, was the one who spotted the men breaking into the car. "It was about 2 a.m. and my daughter came and woke me up," Cash said.
Police say Poindexter allegedly took a bottle of cologne and two cellphone chargers. They say Poindexter and Mart, who uses a wheelchair, returned to the woman's home to apologize before police arrived later Monday. Police said her father chased them, and they were later caught by police.
"They were going real slow because of the guy in the wheelchair, so they couldn't really run like normal," Cash said.
All of the stolen items were returned, police said. "We were lucky because usually it doesn't happen that way," Cash said
(Visited 38 times, 1 visits today)