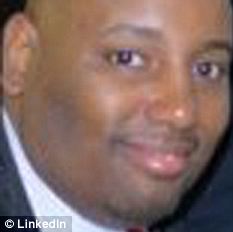 The man who flashed a young girl as she walked to school in December was finally identified and found to be a city employee who worked with a youth group.
Andrew McFall, 41, was arrested Friday after he was finally identified using security footage that caught him just as he was about to inappropriately expose himself to the 11-year-old girl.
The girl was walking to school in Harlem on December 20 when the man started screaming profanities at her and then flashed her.
The girl promptly told employees at her school and her mother, who reported the incident to the police.
McFall was seen looking over his shoulder after the December 20 incident when he flashed the 11-year-old girl on her way to school
Though it took time to identify him because of the lack of clues, McFall was finally detained on Friday, exactly one month after the incident.
McFall worked as the director of the city's Youth Connect program and was fired after he was arrested for public lewdness and endangering the welfare of a child with bail set at $3,500.
(Visited 31 times, 1 visits today)