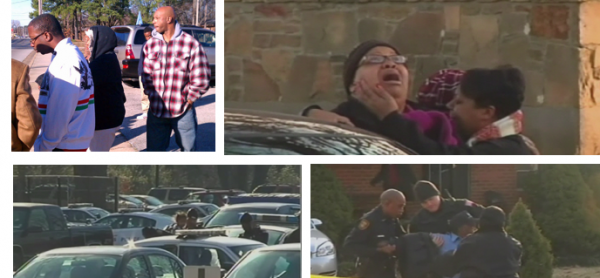 Cops in Memphis say a man suspected of fatally shooting his girlfriend and her parents surrendered 2 hours later with his 4-year-old daughter in tow.
Police spokeswoman Karen Rudolph says police were called to the victims' home early Thursday. They found the woman and her father dead. The woman's mother was injured and died later in a hospital.
Ricky and Tricia Fischer and their daughter PaShea were shot dead inside their own home early Thursday.
The murders were the result of a fight between PaShea (the kid's mom) and her boyfriend Sedrick Clayton (the kid's dad), according to police.
"This does seem to be a domestic situation," said Karen Rudolph, of the Memphis Police Department.
According to the boyfriend's family, the couple started arguing in the bathroom.
"He said the young ladies daddy kicked the door in and kicked me in my chest," said the suspect's mother Lillian Harvey. "My son is small. He said when he fell to the floor they came at him all kind of ways. He said he emptied the gun."
"He said when he seen all them coming towards him he just pulled out the gun and sprayed," said Sedrick Clayton's sister Tawana Brown. "He said he sprayed his way out of there."
Clayton left the crime scene and took the couple's 4-year-old daughter with him, according to police.
After SEVERAL hours on the run, he turned himself in at the Raines Station precinct.
"There is a child here," said Lt. Col. Frank Garrett, of the MPD. "The child is fine."
Clayton's family said he does not have a criminal history, but believe he may have abused PaShea.
(Visited 77 times, 1 visits today)