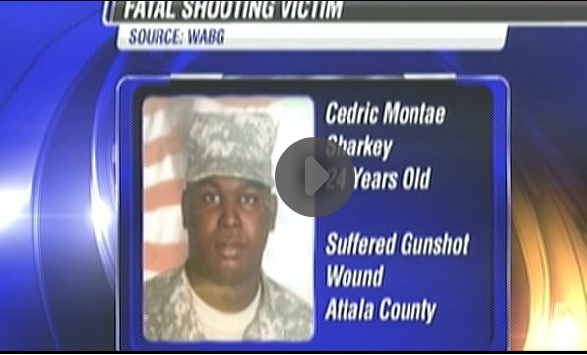 A small Attala County town is questioning whether a weekend chase and fatal shooting should be investigated as a Hate Crime.
Sheriff's department officials met with residents are asking for justice in the murder of Cedric Sharkey.
More than 125 people crowded into New St. James Church of Christ to find out more about Saturday's investigation in Sallis where 24 year old Cedric Sharkey was found shot in the woods following a chase on Attala Road 4106.
"They had no business, no business, none chasing behind somebody taking the law into your own hands," said one woman sitting in the audience.
Attala County's Sheriff William Lee and Investigator Zeile Shaw answered questions from those in attendance.
Law officers said 52 year old Frankie Barber and 42 year old Barry Ware of Sallis are charged with the fatal shooting.
One weapon is being processed by the State Crime Lab.
The two told investigators Sharkey fired at them first, but no other weapon has been found.
"It is revealed up to this point in time we do not believe he had a weapon," said Investigator Shaw when asked if Sharkey had a gun.
Residents voiced concerns about witnesses seeing four people in the truck chasing the shooting victim while only two were charged.
Relatives said Barber accused Sharkey of stealing iron from his property then later chased his car causing it to crash.
"Frankie his son, his son-in-law and his daughter they pulled up. The son jumped out and said 'Yall been the ones taking our stuff and Ced's younger brother Marcus he said 'We hadn't been taking nothing'," said Sharkey's sister-in-law Shequena Luckett.
"I'm tired physically, mentally. I mean I just want justice. If it was a Hate Crime I want them to be prosecuted to the fullest either way. We just want some justice," said Sharkey's fiance Vanessa Williams who identified his body Saturday.
Sheriff Lee said the Mississippi Bureau of Investigations and several other agencies are assisting.
"We're going to do everything we can to make sure that we get convictions. I promise you that. You don't have to worry about that part of it. If more evidence comes back where we can charge people, charge more people whatever, we're gonna do that too," said Sheriff Lee.
Clergy officiating the meeting asked law enforcement for fairness in solving this crime and bringing all involved in the murder to justice.
The Sheriff said the FBI would be consulted to determine if the fatal shooting constitutes a hate crime.
(Visited 193 times, 1 visits today)