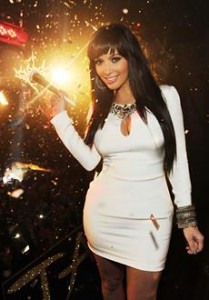 Kim Kardashian sported a new look as she rang in a new year in Las Vegas Saturday with her mom, Kris Jenner.
"I am ready to move forward and not look back. I learned a lot of about myself this past year and at the end of the day you always have to trust your gut," said Kim of 2011. "You've got to believe in love. I still do."
And she tweeted: "Who else is soooo ready to let go of 2011 and have the best 2012 ever!!!"
But back in somewhat happier times, when Kim wasn't ready to let go of her 72-day hubby, Kris Humphries, she spent time with him obsessing over whether her friend Jonathan Cheban is gay. That's what we saw on Sunday's new episode of Kourtney & Kim Take New York.
via Kim Kardashian: 'Soooo ready to let go of 2011'.
(Visited 32 times, 1 visits today)