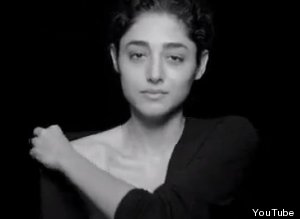 Golshifteh Farahani, a 29-year-old actress who became the first Iranian to star in a major Hollywood film, has been banned from returning to Iran, The Telegraph is reporting.
Her offense? Appearing topless in a short black-and-white film.
Farahani appeared partially nude in Jean-Baptiste Mondino's 'Corps et Âmes' (Bodies and Souls) as well as in the French magazine Madame Le Figaro. This week she received word from the Iranian government that she would not be permitted to return to her homeland, according to The Daily Mail.
In the film produced by the Cesar Academy — roughly the French equivalent of the Academy Awards — Farahani appears in a series of actors who were preselected for awards. The film cuts between the actors as each completes a line while undressing.
Farahani began her career at the age of six and rose to fame in Iranian cinema by the time she was 14-years-old. The Iranian actress has also worked with Asghar Farhadi, the director of the film A Separation, which received a Golden Globe this year for best foreign film.
via Iran: Golshifteh Farahani Posing Nude Means No Return To Homeland – The Huffington Post.
(Visited 417 times, 1 visits today)