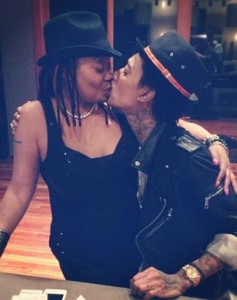 Wiz Khalifa has admitted that he enjoys getting high and drunk with his mother.
The 'Roll Up' rapper has made no secret of his hobby of smoking weed and it seems it runs in the family. Wiz posted a photo on Instagram where he can be seen kissing his mother, along with the caption: "I Love My Mommy."
"Yes We Smoke Together. Poppin Bottles & Gettin Trippy Wit My Mom," he added.
Wiz's girlfriend Amber Rose also gets on famously with his mother, she has previously revealed. Although, with the model not being a smoker, we're assuming they engage in activities that don't involve rolling up!
(Visited 136 times, 1 visits today)