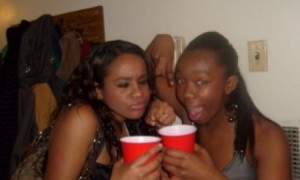 Bobbi Kristina Brown allegedly was once in rehab, attempted suicide, entered a psychiatric ward, used cocaine, and was addicted to Xanax back, claims the National Enquirer today. Bobbi Kristina Brown allegedly was high during her mother's funeral and is being urged to enter rehab again, claims new reports in the Daily Beast as well today, allegations that her family is denying.
Bobbi Kristina Brown scandal photos surfaced online several years ago when the National Enquirer claimed that the teen was traumatized over her parents' divorce. Now that same publication is re-issuing new details about their allegations.
First, Bobbi Kristina Brown alleged entered rehab previously and an outpatient program. The Enquirer claims that Whitney Houston paid $49,000 for Bobbi Kristina to enter an outpatient program at Talbott Recovery in Atlanta. Second, the paper claims that the teen was allegedly admitted previously to a psychiatric ward at Peachford Hospital in Atlanta. Third, the paper claims on February 17, 2008, Bobbi Kristina allegedly tried to commit suicide, allegedly slashing her wrists.
The paper then claims that Bobbi Kristina has previously allegedly battled addiction to Xanax and cocaine, mixing them allegedly with Everclear.
But while the National Enquirer is reprinting today allegations that stem from 2008, the Daily Beast is claiming that that the 19 year still has a problem and that her family is very aware of it, but won't admit it publically. "Cissy and others won't admit out loud that Bobbi Kristina has a drug problem," claims a family source to the Daily Beast "But they know it and have been trying to keep her straight even before Whitney passed. "
The family denies the Daily Beast's allegations claiming Bobbi Kristina is not currently on drugs. The Daily Beast also claims that Bobbi Kristina was in rehab last year. The family would not comment about that allegation. The family also has not commented about the Enquirer allegations.
(Visited 269 times, 1 visits today)