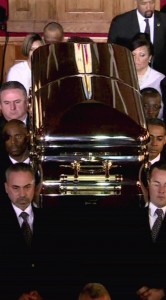 The funeral home where Whitney Houston's body rested in the days leading up to her burial, are said to be "very angry" that someone took a photo of the star and sent it to the National Enquirer for publication.
The Whigham Funeral Home in Newark, New Jersey allowed family members to attend a private viewing of Whitney's body before last Saturday's homegoing service.
However, they were as shocked as the rest of the world when they saw Whitney's body laying in her casket splashed across the front page of the National Enquirer.
Unsurprisingly, a spokesperson for the funeral home has moved to distance themselves from the scandal, telling E! News: "We have no comment—but it was not the funeral home."
"[The media] are getting me in the middle. I am very angry, very upset, just like the family, just like the fans" are about the photo. We don't like it because it implicates us. Whitney was a personal friend to me and my family. We would not do that."
(Visited 55 times, 1 visits today)