Oprah Winfrey is under fire after making a controversial bid to resuscitate ratings at her ailing cable network OWN on Twitter.
The media mogul, competing for viewership with Sunday evening's Grammy Awards, took to the micro-blogging website to ask her 9.2million followers: 'Every 1 who can please turn to OWN especially if u have a Nielsen box.'
The tweet was deleted, Ms Winfrey said, 'at the request of Nielsen', which prohibits clients from attempting to influence ratings.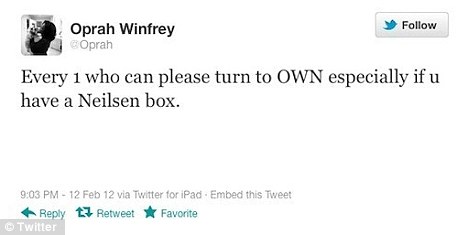 A backlash of comments followed, with several Twitter users accusing the mogul of 'being desperate'.
Ms Winfrey dismissed the criticism in a series of tweets writing: 'The word "please" issued as courtesy not a beg… "desperate" not ever part of my vocab.'
'unethical a little harsh don't u think? Seemed like it made sense to me. Sorry if u're offended,' she added in another.
'We take any violation of our policy seriously and will work with clients to resolve the situation,' the Nielsen spokesman said.
At the time of the tweet, an episode of 'Oprah's Next Chapter' was airing, featuring Ms Winfrey visiting the home of a Hasidic Jewish family that had never watched television.
(Visited 58 times, 1 visits today)