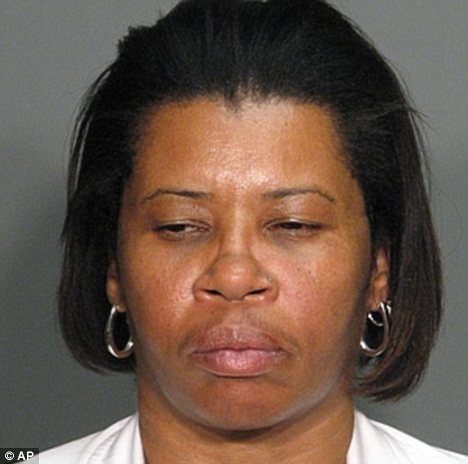 A woman pleaded guilty to kidnapping yesterday after snatching a newborn baby in 1987 and raising the child as her own for more than two decades.
Ann Pettway, 51, appeared resigned to a life behind bars as she entered the plea at a federal courthouse in Manhattan.
Her voice was flat as she briefly recounted how she took a train from her home in Bridgeport, Connecticut to Harlem Hospital, where she scooped up Carlina White, a three-week-old baby who had been brought to the emergency room by her parents.
'I went to the hospital. I took a child,' she said. 'It was wrong.'
Guilty: Ann Pettway has admitted kidnapping a newborn child in 1987
Pettway said little else during the hearing, and offered no explanation for her actions. As part of her plea bargain, prosecutors agreed to recommend between 10 and 12-and-a-half years in prison, although the actual term will be set by a judge.
As Pettway admitted her guilt, Carlina's birth mother, Joy White, quietly cried in the courtroom gallery. Afterwards, she told reporters that she was outraged at the plea bargain, and felt a decade in prison would be too light a punishment for the woman who had robbed her so cruelly.
More…
Teen mother caught on hidden camera trying to suffocate her baby while in hospital
Mother 'punched her 10-year-old son DURING anger management class'
Mother who sold her two daughters to a pedophile for $30,000 caught after two years on the run
Justice, she said, would be a term of 23 years, one for every year she was separated from her daughter.
'I've lost 23 years of being with my daughter,' she said, adding that those decades were filled with pain and heartache.
Reunited: Carlina White, left, managed to track down her birth mother Joy White, right, using a website for missing children
Ms White said she still remembers encountering Pettway at the hospital on the day her daughter disappeared. She said the kidnapper was dressed like a nurse.
'She came up to me and said to me, "Don't cry. Your daughter is going to be OK."'
A judge set a tentative sentencing date of May 14.
The sensational mystery of the baby's kidnapping was one that had stymied police for decades. In the end, the case was solved by Carlina herself.
As she grew up in Bridgeport under the name Nejdra Nance, Miss White had become increasingly suspicious of her own identity.
Baby: Carlina was just three weeks old when she was taken by Pettway
Distraught: Carlina's natural parents soon after her disappearance
Pettway ultimately told her a part-truth – she admitted that she was someone else's daughter, but claimed she had been willingly given away by a drug addict.
Miss White eventually took to browsing the website of the National Center for Missing and Exploited Children for clues to her identity.
After matching a photo of herself with one on the site, she tracked down her true mother. The two reunited in January of 2011, and a DNA test later confirmed they were mother and child.
Today, they speak every day, Joy White said.
'I love my daughter. She's a beautiful girl,' she said, adding that she had kept a picture of her missing baby at her bedside for 23 years. 'She told me yesterday, "Mommy, you're my valentine."'
via Ann Pettway pleads guilty to kidnapping Carlina White | Mail Online.
(Visited 124 times, 1 visits today)