A police chief and four of his staff have been fired after they allegedly filmed themselves encouraging a mentally disabled man to eat cinnamon.
The prank, called the Cinnamon Challenge, took place at Tutwiler City Hall in Mississippi, where the 18-year-old was carrying out community service.
Scroll down for video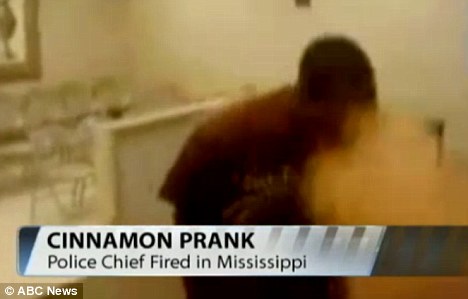 Police chief Terry Tyler was fired for his part in the prank, which saw town clerk Angelia Chandler pour cinnamon into the unsuspecting man's mouth.
Seconds later, Martin is seen coughing out the powder before running to a water fountain and dashing to a restroom, on the verge of being sick.
Martin's attorney Ellis Pittman told the Associated Press that while his client was choking, the officials were 'all laughing, grinning and having a grand time'. Their laughs can be heard on the video.
(Visited 108 times, 1 visits today)