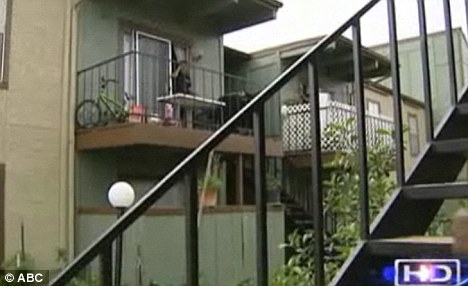 The mother of a five-year-old girl could be facing murder charges after the child was found dead in her home with cuts and bruises from her head to her feet.
Candy Flores was pronounced dead when paramedics arrived at her tiny southwest Houston apartment complex, where she lived with 14 others.
Her mother, Rosa Gonzalez, 41, told police she sustained the injuries while falling off the toilet.
Scroll down for video
Home: A total of 14 people lived in the 500 square foot apartment where Candy Flores, five, was found dead
HPS Sgt Bobby Roberts told ABC it was bad abuse case and one of the worst they had seen
Someone in the home called 911 and officers found the five-year-old on the floor of the only bedroom in the house.
She had a contusion on her face and a cut on her nose. Paramedics tried to revive her but to no avail.
A medical examiner said that Candy's injuries did not match up with what her mother told detectives as he found many injuries, some of which were fresh and some in different processes of healing.
During questioning, Houston Police say Rosa later admitted her daughter was being abused for some time.
HPD homicide investigator Kevin Carr told the Houston Chronicle that Candy had bruises and scratches from her head to the bottom of her feet and injuries on her face, arms, chest and legs.
'The way the initial injury was described was not consistent with the other injuries observed,' he said. 'This one child in within this large family was targeted.'
Scene: Police arrived at the Houston apartment on Tuesday night to find Candy dead with a number of cuts and bruises to her body. She was also severely malnourished
Gonzalez is currently charged with felony injury to a child but this is expected to change once an autopsy is complete.
Candy was also severely malnourished and had the body of a three-year-old rather than a five-year-old. Her rib cage was visible, her face shallow and she had dark circles around her eyes.
Gonzalez had nine other children – two adult daughters and seven minors, who range in age from 21 to two months old.
All but the woman's 20-year-old daughter and 17-year-old son lived in the 500 square foot apartment.
Gonzalez's 21-year-old daughter was also living in the apartment with her four children, ranging in age from ten months to five years old, Carr said.
CPS took the nine children into custody. They are interviewing them about their home life and trying to determine if they will stay with relatives for the time being.
It did not appear as if any other children had been abused but the family are known to have a history with Child protective services.
The case has disturbed even veteran homicide detectives.
HPS Sgt Bobby Roberts told ABC: 'It's an abuse case and it's bad.'
Police aren't sure whether Gonzalez, who's from Mexico, was in the US legally.
They say they have a theory on why she allegedly targeted the five-year-old and not the others
(Visited 21 times, 1 visits today)