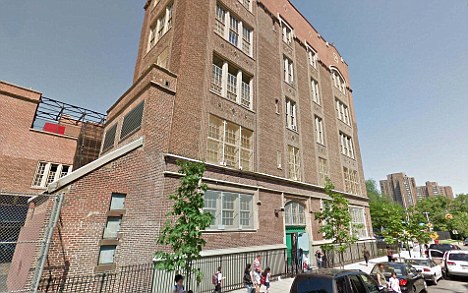 Parents of two pupils are suing New York City after they claim five-year-olds in a kindergarten class took their clothes off and 'kissed and touched each other intimately' under their desks while the teacher was in the classroom.
The activity is said to have taken place at the elementary school in Amsterdam Avenue, Washington Heights, for four months without parents being informed.
Four to seven children were said to have been showing their body parts to each other and kissing and touching as the teacher had her back turned.
One mother told the New York Post: 'They were exposing themselves and showing their body parts to each other. From what I understand, they were kissing and touching.
'They were trying to say that my daughter was inviting these children to do this to her.
'They [the school] explained the teacher had her back to the children, that it wasn't that long. She must have had her back turned for a very long time for them to do the things that they did.'
The woman has since removed her daughter and transferred her to another school in New Jersey, the Post reported.
Last week, she and the mother of a boy in the class filed notices of claim against the city each seeking $5million in damages. Notices of claim are required before a lawsuit can be filed.
The notices allege the activity by four to seven children took place from September until January.
The mother of the boy reported it to the school after hearing about what was taking place in October.
A report of the complaint was made by the school on December 21, but it did not notify the NYPD or school superintendent and informed parents of other children on January 3, several months after the alleged activity began.
Principal Theresa Luger and the DOE declined to comment.
(Visited 41 times, 1 visits today)