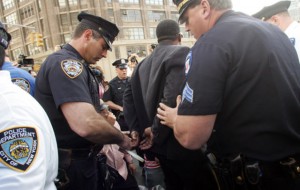 A New York Civil Liberties Union (NYCLU) analysis of the New York City Police Department's (NYPD) arrest data reveals that 87 percent of the people who were stopped and frisked in 2011 were African-American and Latino compared to a mere 9 percent of whites.
Latinos and blacks make up 59 percent of the city's population.
Since controversial New York City Mayor Michael Bloomberg took office in 2002, there has been a near-600 percent increase in systemic racial profiling, according to the New York Daily News.
New York's finest have been under the microscope for decades regarding their aggressive police tactics towards the city's minority population. NYCLU statistics reveal that a record-setting 684,330 New Yorkers were detained and questioned as a result of stop-and-frisk. Of this number, 92 percent of those stopped were males. Of those who were randomly selected and detained by police, twelve percent were not guilty of any wrongdoing.
Many critics say that stop-and-frisk makes it almost illegal to walk down a New York City street, if you are a minority. And many feel under siege and harassed by police. The Center for Constitutional Rights, an attorney's group dedicated to advancing and protecting civil rights, says stop-and-frisk not only is against the law; it doesn't help minimize crime, either:
"Most stops occur in Black and Latino neighborhoods and, in all neighborhoods, Blacks and Hispanics are significantly more likely to be stopped than Whites. Also disconcerting, stop-and-frisk data has repeatedly shown that NYPD officers use physical force at a significantly higher rate during stops of Blacks and Latinos.
Despite insistence by the NYPD that stop-and-frisk has helped reduce crime, the practice has never been shown to yield a statistically-relevant reduction in crime. In fact, the weapons and contraband yield from stop-and-frisk is the same as that from random check points, despite the NYPDs attempts to justify the program as key to confiscating illegal  weapons.
Police stops-and-frisks without reasonable suspicion violate the Fourth Amendment, and racial profiling is a violation of fundamental rights and protections of the Fourteenth Amendment and the Civil Rights Act of 1964. Further, this kind of heavy-handed policing promotes mistrust and fear of police officers in communities of color—rather than serving those communities, police end up occupying them."
Meanwhile, the NYPD claims it merely stops people based on descriptions given by crime victims. The city's Deputy Commissioner Paul Browne defends his department by bringing to light some favorable statistics which have greatly improved since Bloomberg became mayor. He touts that murder rates have dropped by nearly half and that law enforcement has recovered 819 guns during the stops. Before Bloomberg was elected, there were 11,058 murders in Tinsel Town compared to 5,430 in the decade since he took office. "That's a remarkable achievement — 5,628 lives saved — attributable to proactive policing strategies that included stops," Browne tells the Daily News.
Manhattan Borough President Scott Stringer, who is white, told the Daily News that problems surrounding stop-and-frisk don't resonate with white New Yorkers, but it should be of concern to all races nonetheless.
(Visited 23 times, 1 visits today)