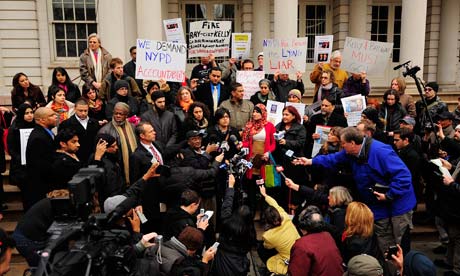 Just as, every day, I pray for the safety of my family members who serve in the New York Police Department, now I also have to pray for safety and security of my community from the very agency that is legally bound to protect them. Recently, it has been revealed that New York's police commissioner sat for a 90-minute interview during the making of The Third Jihad, a patently anti-Muslim film. Just as troubling, for months the commissioner and his staff played down both his involvement and the extent of the film's viewing by cadets in training.
The level of obfuscation has shocked New Yorkers and left many wondering: what else might the NYPD be lying to us about? Let me tell you about a few policing methods that have left a bad taste in the mouths of many of the city's diverse communities.
The NYPD has had a long standing history of bad policing in black and Latino communities. In 2010 alone, the NYPD engaged in more than 600,000 stop-and-frisks searches; 84% of those stopped were of black or Latino. Time and again, police officers have used force when stopping blacks or Latinos. Half of these stops have been cited as "furtive movements", a label that portrays black and brown people as clandestine. The stop-and-frisk widespread problem that is racially discriminatory under the ostensible excuse that the practice is necessary in fighting crime. Sadly, this procedure has not proved to reduce crime or make the city any safer.
(Visited 37 times, 1 visits today)