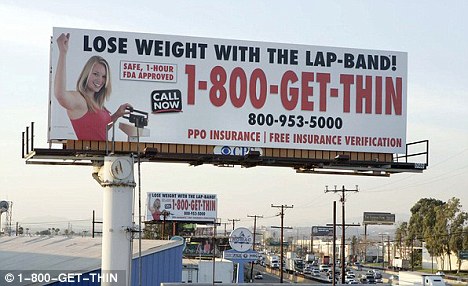 A ubiquitous marketing campaign for weight loss surgery, whose billboards, TV ads and radio spots have flooded Southern California, is under fire because five patients have died since 2009 after procedures at clinics affiliated with the brand.
A series of lawsuits and state and federal investigations have cast unwanted attention on the company behind 1-800-GET-THIN, which as built its brand off Lap-Band bariatric surgery.
Now, the Lap-Band's makers have severed their times with 1-800-GET-THIN and will no longer allow clinics affiliated with the campaign to use their product.
Billboards advertising 1-800-GET-THIN are seemingly everywhere in Southern California
The Lap-Band, developed by the pharmaceutical company Allergan, is a medical device that restricts stomach size, which can lead to the consumption of less food weight loss.
The Los Angeles Times points to the deaths of five patients since 2009 that occurred after surgeries at 1-800-GET-THIN clinics.
In 2010, Laura Faitro died horrifically after a Lap-Band procedure at a clinic that works with 1-800-GET-THIN, according to her husband John's attorney.
'Not telling patients like John's wife that they cut her liver three places during the surgery and put her in a wheelchair and sent her home to die,' lawyer Alexander Robertson told CBS Los Angeles.
Mr Robertson has filed two wrongful death lawsuits against the company.
(Visited 113 times, 1 visits today)