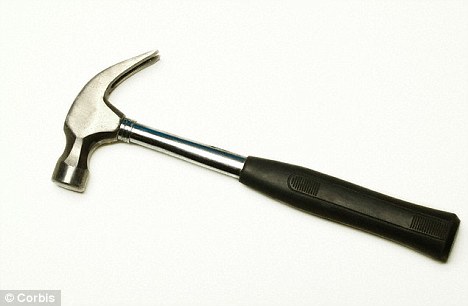 A freshman at Columbine High School, the setting for one of the deadliest school attacks in U.S. history, has been accused of attacking two students with a hammer.
She warned a school employee of the attack moments before it happened, the Associated Press said.
The Littleton, Colorado student, who is unnamed because of her age, was arrested and is facing a felony charge of first-degree assault.
Attack: A student, 14, allegedly attacked two of her classmates at Columbine High School, the site of the deadliest school shootings in history
Attack: The girl used a hammer, possibly like the one pictured, to attack her 15-year-old classmate in one of the high school's bathrooms
Officials say the fight began in the girl's bathroom after the 14-year-old girl began arguing with a 15-year-old female student.
According to Jefferson County spokesperson Lynn Stezer, the suspect then took out a hammer.
A male student tried to intervene, but was also injured while trying to stop the girl, thedenverchannel.com reported.
Jefferson County School District security director John McDonald says investigators Monday were trying to gather additional details.
Deadly attack: Columbine High School was the site of one of the nation's deadliest school attacks on April 20, 1999
Students Eric Harris and Dylan Klebold opened fire on April 20, 1999 at the Littleton, Colorado school, killing 12 classmates and a teacher, and wounding 26 others before killing themselves in the school's library.
The two had formed an alliance called the 'Trench Coat Mafia' and were openly hateful to the vast majority of people, journal entries show.
They cooked up homemade bombs in their parents; houses and plotted to kill as many people as possible.
The event rocked the nation, as people tried to come to terms with the senseless violence and immense taking of life at a place that was once thought to be a safe haven
(Visited 52 times, 1 visits today)