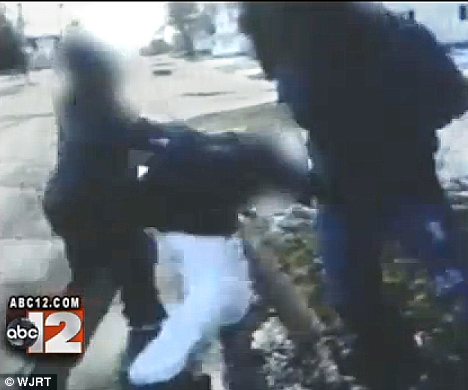 Two teenagers who attacked one of their schoolmates are likely to face justice after they filmed themselves beating the other boy and posted the footage on Facebook.
The horrific video received a warm welcome from the teens' friends, however – more than 25 of them clicked the 'Like' button on the post.
But the mother of the victim has urged officials to take action against the other boys, saying their decision to post the evidence of their apparent wrongdoing 'wasn't smart'.
'I want to let other people know that this is not something you can do and get away with it,' Trina McNeil told the Flint Journal.
Her 14-year-old son was walking in Flint, Michigan when he was set upon three teenager whom he knew from school, according to a police report.
But the fact that the attack was filmed on the cell phone of one of the attackers means it must have been premeditated, according to Ms McNeil, 39.
The video appears to show the other two boys punching and kicking the victim while shouting swearwords and racial slurs.
The attackers' faces are also clearly visible, and Ms McNeil says they can easily be identified.
This did not stop one of the apparent attackers from posting the video on his own Facebook page, where it received at least 25 'Likes' from other users.
She has handed the video in to police, and they say they are using it to help identify the suspects and take appropriate action.
The victim escaped his attackers by running to the safety of a nearby car, and then went to hospital to undergo treatment for swelling to his face and eye.
(Visited 79 times, 1 visits today)