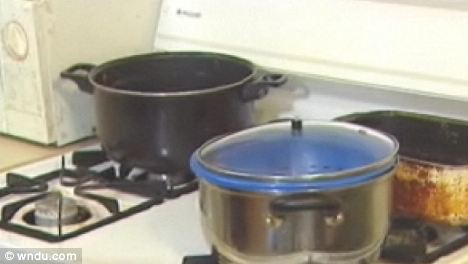 A confused burglar broke into a neighbour's house before sweeping the floor, folding laundry and cooking dinner, prosecutors say.
Mother Ashley Murray returned to her apartment in South Bend, Indiana to find the lights on, the door locked and Keith Davis, 46, allegedly making himself right at home.
The baffled mother, who was with her young son, said: 'I seen my living room light on…so once we came up the stairs I figured my brother was home.
'I turned the knob and it was locked, so…I pushed my window open and it was some random guy in my kitchen.'
Murray called police before yelling at Davis to leave her home.
Davis allegedly told her 'The police already been here', shut the door and sat tight until the police came, WNDU News reported.
When the surprised mother finally got into her apartment she was amazed to find Davis had been hard at work.
Bizarre break-in: The alleged burglar cooked some chicken and onions in a pan on the stove (pictured)
Housework: The intruder allegedly took Murray's clothes out of the drier, folded them and stacked them on the table
'The police said it looked like he was a good chef. it looked like he had broth and everything in it.'
'He drunk up my orange juice, but it's cool because he swept up my floor and folded my clothes,' she told WNDU TV.
Davis insisted he was in his own home, but was arrested and charged with breaking and entering.
Nothing was stolen from the house, apart from the food, which left her short about $7, Murray said.
Local resident: Murray later discovered Davis lives near her apartment in South Bend, Indiana
Home sweet home: The apartment complex in South Bend, Indiana where Ashley Murray came face to face with her unexpected visitor
She added: 'He really seemed to think this was his home. How could you not look at the pictures and none of that and realize you don't know nobody?
'The apartments are alike, but you knew this wasn't your house.'
Murray's son later recognised Davis as a neighbour.
Prosecutors requested a $5,000 bond but a judge lowered it to $1,000.
(Visited 22 times, 1 visits today)