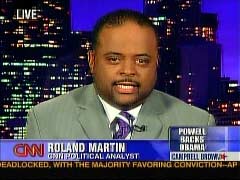 Roland Martin of CNN and TV One fame was thrust into the middle of boiling hot sauce after the Super Bowl for some remarks he made on Twitter.   Finding himself offended by an ad featuring a nearly nude David Beckham, Martin decided to make a "lil jokey-joke" out of the situation:"If a dude at your Super Bowl party is hyped about David Beckham's H&M underwear ad, smack the ish out of him!" said Martin.
Being the professional that he is, Martin fired back at every Twitter missile sent his way, arguing that his remark was more of a joke about soccer fans than something having to do with the nearly naked man on the screen. The move might have worked, had it not been for the diligence of GLAAD and other activists who seemed to feel that they had Martin cornered.
Read More via Roland Martin, GLAAD and How Weve Learned to Become Oppressors | EURweb.
(Visited 29 times, 1 visits today)