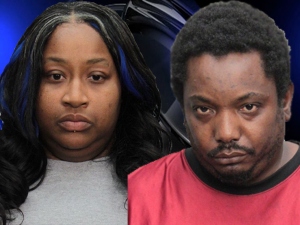 Marsee Strong and Edward Bailey (pictured), the parents of a 9-year-old boy who was found naked, emaciated, beaten, and dazed as he wandered the streets of his North Miami Beach neighborhood, were taken into custody on aggravated abuse and child neglect charges, according to CBS News Miami.
SEE ALSO: Top 10 Most Weed Friendly Colleges
The unidentified child, who was compared to a concentration camp Auschwitz victim, had apparently been starved to the point where his eyes were bulging from their sockets and his bones were sharply protruding from his skin.  The boy weighed 35 pounds, which is the weight of a healthy 3-year-old child.
Police found the child wandering through his neighborhood on Saturday night.  According to investigators, he had jumped out of the window of his home to escape Strong and Bailey's house.  Paramedics took the child to a nearby hospital, where he pleaded for food and told officials that he had not eaten in three days.
Upon examination of the child, doctors found evidence of recent and older severe beatings; there were permanent marks all over his body.  The boy's hands and feet were also swollen. Investigators also discovered that there were four other siblings in the home, one aged 18 and pregnant.
The parents are unemployed and had already been investigated by the Florida Department of Children and Families.  Interestingly, a case worker had dropped by the child's home a month prior to check on the children.  No reports had been filed after the social worker's visit.
The state investigator had already been monitoring the boy based on reports that he refused to eat and was a self-mutilator who ate pieces of his own skin.  The juvenile court Judge Cindy Lieberman, who is overseeing the case, was disturbed by the social worker's claims.
Strong denied hitting the child but admitted to failing to protect her son from others, not properly supervising him, and failing to seek immediate medical attention for the boy.  Bailey also denied striking the boy but did admit to allowing others to hit him without intervening.
An uncle, who claims that he was unaware of any wrongdoing in the child's household, has stepped in and asked to be the guardian of all five of the children. Instead, Judge Lederman decided to appoint a guardian to take care of the children and ordered medical tests for all of the children in the home.
According to CBS, Judge Lederman said this was "one of the worst cases I've seen. This looks like a neon sign. The abuse should have been obvious."
Lederman has ordered a thorough investigation and wants a full report by the next custody hearing on February 8th.
Meanwhile Strong is being held on a $65,000 bond while Bailey's was set at $60,000.
(Visited 91 times, 1 visits today)