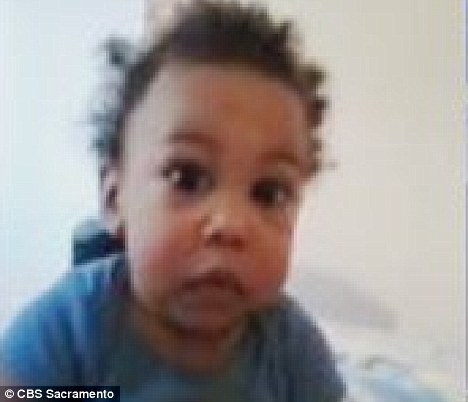 Authorities are locked in a desperate search for a missing child last seen 11 months ago in a mystery that has yielded few clues.
Dwight Stallings, now 22 months old, has not been seen by family members or neighbours since April of last year.
The boy's mother, Tanisha Edwards was arrested on Saturday and charged with a probation violation, but there was no sign of baby Dwight.
Child Protective Services had done several checks at her home around the time the child was last seen, but Tanisha Edwards and her son were never there.
Sheriff's Deputy Jason Ramos told CBS Sacramento: 'We have nobody that can tell us they actually saw this child in 11 months'.
Edwards was arrested at the home of her mother, Barbara Edwards, who also admitted that she hasn't seen the child since last April.
Barbara Edwards said that whenever she would ask about Dwight, her daughter would say that he was with a babysitter.
She told ABC News 10: 'I just want Dwight, wherever he is or if someone has him, just to turn him in. I just want my grandson back'.
Police told ABC News 10 that the women's boyfriend said he never knew Tanisha Edwards even had a son.
The sheriff's department said Edwards has told numerous stories about where the child could be, but so far none of them have checked out.
Deputy Ramos told the station: 'Unfortunately, Ms Edwards' stories have been literally all over the map with respect to what happened to the baby'.
In the meantime, investigators are exploring the possibility that the child is living under a different name, or that he may not be alive.
(Visited 31 times, 1 visits today)